Holidays seem to be coming fast and furious in what is normally a season of "winter blahs". The addition of Family Day to the February calendar helps a lot, and then when March Break feeds so quickly into Easter it feels like we are seeing family more often than perhaps we deserve.
Unless, that is, you can't spend time with family, for reasons of circumstance or geographical or emotional distance. Then holidays can be a bit depressing.
Luckily, through the efforts of some local heroes, people in Barrie can enjoy a community Easter dinner on Monday March 6th downstairs at Central United Church on Ross St. Founded by Rose "Rosie" Romita and now run by Hope City Church, this evolving tradition depends on community to build community. People with time or money to give come together to help prepare and serve a meal, and people who need food or holiday companionship come together to eat.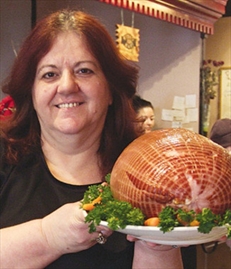 Whatta ham!


Leigh Blenkhorn photo
As Rosie becomes busier on Barrie's city council, others are helping fill some key roles. Hope City Church is working on volunteer registration and training, so if you'd like to help with this event, particularly the preparation on Sunday, please email
Jen@HopeBarrie.com
. You can now also receive charitable receipts for much-needed financial contributions, which you can do in person or through the button at
www.HopeBarrie.com
. Or if your preference is to donate goods, there is a need for boneless hams, desserts of all kinds (pies, cakes, cookies, brownies, muffins, etc.) and canned or bottled beverages. All the food for this event is donated, will some of it come from you?
The traditional meal of ham, carrots, mashed potatoes and salads is being prepared this year under the direction of Joelle Golden of Auntie Jo's Kitchen, located in Barrie-by-the-Bay. And as usual, there will be equipment set up by B101 for singing and karaoke to help bring the spirit of friendship.
What was once a one-person affair is becoming a community partnership made up of many links. Inspired by Rosie (who still takes a leading role), hosted by Central United, organized by Hope, with cooking by Auntie Jo, and volunteers from the community preparing food donated by generous locals like you, this really does show how everyone can come together to build something special and lasting.
So now there is no reason to be lonely at Easter, and every reason to come down and partake in one of the 600 free meals served at this event. Going beyond food, this is true relationship-building, part of how a city becomes a community. Even if you do get to spend some of Easter with your own family, you can still become part of this larger family, and be welcomed by one and all. We hope you will!